Web Application Development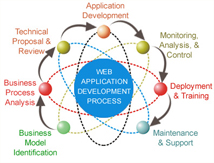 Web applications development is about giving our clients the best business tool they could possibly have. It's about providing an imaginative, creative and unique web presence to further enhance their existing brand and we do this with a team of well versed individuals, experienced in everything from web applications to e commerce platforms.
We gather the required information and reach a solid understanding of the business's 'bigger picture', gaining in depth knowledge of the key aims and objectives of the site for the business, including their target audience, technical requirements and going through any initial concerns they may have.
Application/Data Design - SSADM and RAD, Data normalization, Database optimisation/performance tuning
Database integration
Import Data and create dynamic pages
Developing web interface for entering data
Creating custom website engine
Modification of existing script or adding features
Maintenance and support for web applications
Custom ecommerce development – We develop a custom ecommerce website for you based on our own ecommerce solution which we tailor to specifically suit your requirement and business needs. Our solution is highly customizable and is developed in a modular fashion on an MVC framework.

If you looking to develop your online store or need any help with ecommerce Email: support@greenesweb.com
We are Working
we also offer our services for oscommerce development, the old and popular shopping cart system. We have mastered this system and can customize this to any level you want.
we implement & customize magento based solution. Our team has excellent experience in magento ecommerce development customizing the themes & functionality of magento, tailoring it to meet your business requirements.