Static Website Design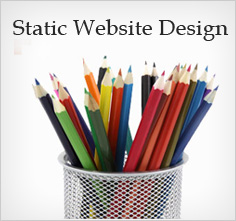 A static website is the simplest way to show your product or business online. It is the easiest type of website to set up, but making changes to static websites require web programming knowledge.Static web design is best suited for sites that will not require updates often.
To Design a static website is a simple method when compared with dynamic website as the technology is quite simple to understand. In general static websites are created using minimum script and HTML coding.
Advantages of Static Website Design
Simple to create and host
Less cost when compared with dynamic website design
Compatible Designs with dynamic flash website
Easy navigation for search engines
Quick to download images, brochures even on lower bandwidths
Each and every page of the website is editable but the certain knowledge is required
Can see the preview before adding on live

Need any help
Email:
info@greenesweb.com