Website Maintenance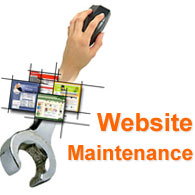 Once a website is done, and accessible online, the next step is to keep it fresh and up-to-day, this is where our web maintenance plan comes in, to help you sustain your website in perfect shape while keeping your cost to a minimum.
If you choose to let Deon Designs maintain your website for you, all it takes is a simple e-mail exchange and your web site can be updated within a matter of minutes. There is no need to make changes to the website yourself. These periodic changes to your web site might reflect modifications in your operation, new products and services, seasonal offerings or just an occasional addition or removal of graphic images to give your web site a fresh look. Site visitors and search engines like it when your web site is updated often with new and current information.
Why is a maintenance plan needed?
Having a website maintenance plan give you the possibilities and time to plan your online strategies and keep the focus on what really is important for you; make the sale.
Some reasons for website maintenance are as follows:
To ensure proper functioning of the website.
To make the site functional for 24x7 hours.
You get the best return from the website.
Updating the site with the latest details.
Ensure proper traffic generation of the website.
To have a long-term business relationship with the client.

Our web maintenance strategy includes:
Fault removal from the site.
Search Engine Optimisation (SEO).
Additional and new website options.
To update the Textual matters on the site.
Checking for Broken or Incorrect links on the site.
"Quick Response" to any technical issues arising from the website.
Removal of Unwanted codes from the site.
The problem that most business owner's face is finding enough time to be able to keep their website updated with everything else going on. That's where we come in - our website maintenance and website management programs are a low cost solution to this problem.
Need any help
Email:
info@greenesweb.com